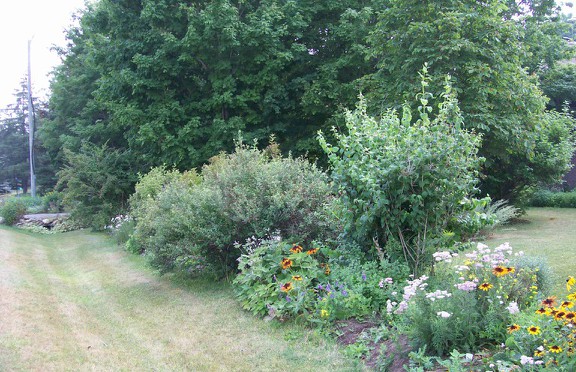 Before the house was built, Susan's father, knowing how impatient she was to begin a garden, rototilled a strip along the west border of the property from the front of the house to the road. From a small beginning, this bed now stretches 175 feet to the back of the property and in some places is 14 feet wide.
Flower borders popped up all around the house, with a circular herb garden of 30 foot diameter sprouting from the east corner of the garage.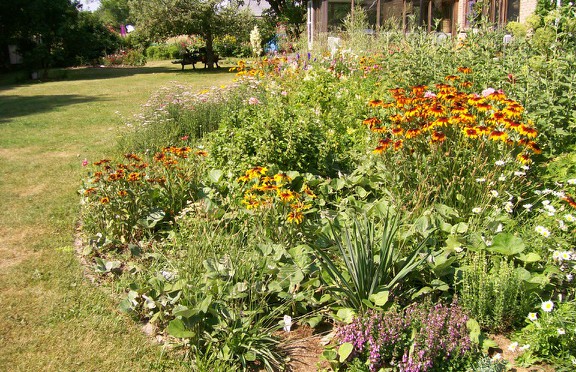 The 17 x 23 ft. patio bed, between deck and solarium, creates a protected mini climate allowing Zone 7 plants to survive the winter.
This one-acre property displays two distinct gardening styles.
The vegetable garden, which fed the growing family with organic vegetables, was methodically planned, well laid-out and immaculately weeded by husband, Ed. Now some annual flowers (started indoors in February) added for colour, are allowed to share the space.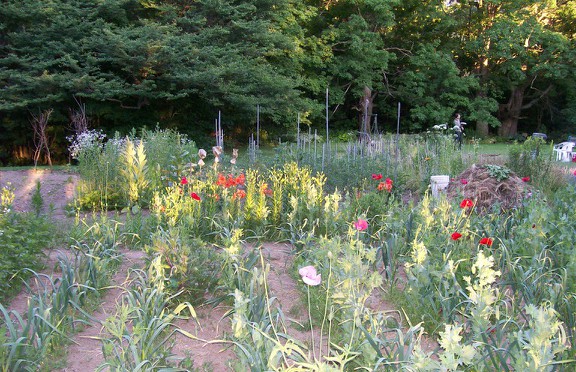 The stone-walled garden was a joint effort, with Ed building the wall and rototilling the hundreds of bags of leaves which Susan collected, fill excavated from the solarium addition and a load of top soil. This expands the shade garden along the rear of the property, under huge maples which theoretically will kill anything growing beneath.   The plants don't seem to know this and grow profusely.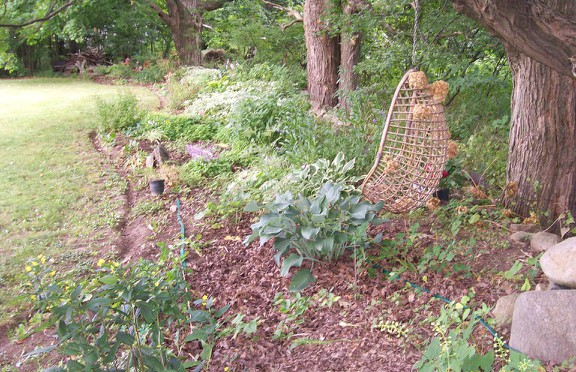 Susan, a Medical Herbalist, aims for one of everything wherever it can be fitted into haphazardly-located beds stuffed with medicinal herbs and perennials in the (vain) hope there will be no room left for weeds.   However, since most of the weeds are medicinal, they have a purpose.   Recycled brick and stones, which seem to grow from the soil, separate beds in the herb garden.
The other back yard beds were designed for viewing from inside the house.
Both gardeners use organic methods with lots of leaves for mulching and composting & numerous rain barrels for hand watering.