When I'm not playing with herbs, I'm dancing because
Happiness is Scottish Country Dancing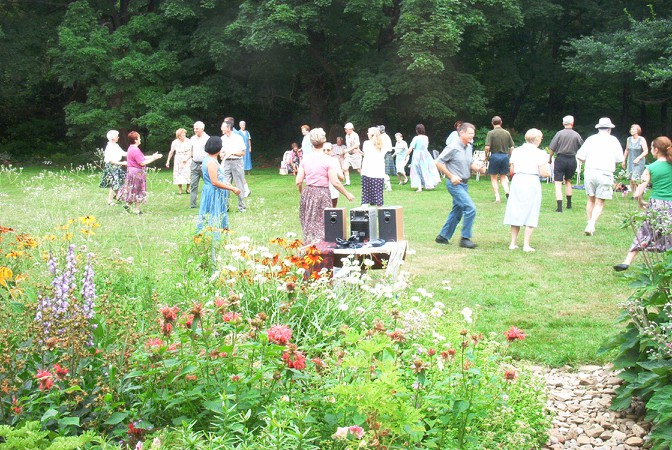 because it:
. provides excellent physical exercise – like interval training but more fun
. boosts the immune system – huge amounts of laughter evident in all classes
(includes laughing at yourself as you make miscues)
. stimulates mental activity which keeps the brain young and 'in tune'
. makes strong social ties with other dancers that extend beyond the dance event
. does not require a partner to participate
. appeals to non-Scots – some of the best dancers are not Scottish!
and where else can anyone over the age of 40 run, hop, skip and jump and still look respectable?

Enjoyment of SCD has lead me to devise new dances. Here they are:
Ann Campbell of Cardoss
Maureen's Meander
Bluevale Bliss
Lady with the Dancing Feet
Miff Campbell
Rose of the West
The Celtic Harp
The Victoria Harbour Lover's Knot
The Valentine Knot
My Girls
Decorating the Christmas Tree
RICHARDSON'S RANT
DANCES WRITTEN FOR US:
Susan's Syringa Strathspey
The Fiddling Preacher
 If you've never experienced Scottish Country Dancing, visit RSCDS Toronto to whet your appetite with information and videos. There are many more sites around the world!
---
DANCES WRITTEN FOR US:
The Fiddling Preacher

The Fiddling Preacher     A 32 bar Reel for three couples

1-4:   First couple set and cast off one place. Second couple move up on bars 3-4.

5-8:   First couple dance half figures of eight, man round third couple and woman round second couple.

9-12:   First couple dance right hand wheels, man with second couple and woman with third couple.

13-16:   First couple turn by the left hand one and a half times to finish facing first corner.

17-24:   First couple dance hello-goodbye setting and finish man facing up and woman facing down.

25-30: First couple dance reels of three on the sides with their corners, passing second corner by the right shoulder to enter the reel.

31-32:   First couple cross giving right hand to finish in second place on their own side.

Repeat with a new top couple.

Devised by Ann Campbell on October 13 2007 for Ed Elliotson, who, as well as playing the fiddle, was training and is now a qualified lay preacher.

Music chosen by Paul Maloney:

"The Snibbet Bibliotheck" from David Cunningham Junior & Senior & Ron Gonellla, Platinum – 70 Years St. Andrew's Branch (SBJ0701).

---

Susan's Syringa Strathspey

Susan's Syringa Strathspey –   32 bar Strathspey for three couples danced in a 4 couple set. A deceptively simple dance with hidden depths giving an opportunity to focus on form and timing detail

1-8: First couple lead down the middle. On bar 5 first man dances below his partner, turning her under his arm, and changing to nearer hands to dance up to first place, finishing in the middle between second couple, first man facing second woman, first woman facing second man. Second couple dance up on bars 5-6 [or on bars 7-8 and turn to face first couple as they dance to the top.

9-11: First man and second woman, giving right hand, and first woman and second man, giving left hand, dance a three-quarter turn [three bar turn. This is a large, sweeping turn; shoulders of second couple should align as they turn. First couple finish in second place facing third couple.

12-14: First man and third woman, giving left hand, and first woman and third man, giving right hand, dance a three-quarter turn three bar turn. This is a large, sweeping turn; shoulders of third couple should align as they turn to finish with first couple in second place on their opposite sides. (Third couple begin by the left foot on Bar 12)

15-16: Second, third and first couples set.

17-20: First man with second couple and first woman with third couple dance a right hand wheel.

21-24: First man with third couple and first woman with second couple dance a left hand wheel.

25-28: First couple dance a half figure of eight, woman down between third couple and man up between second couple, to finish on own side in second place.

29-32: Second, first and third couples turn with two hands.

Repeat from new places.

Devised BY Ann Campbell on September 28 2006 for Susan Elliotson

Suggested music:

The Dean Bridge of Edinburgh, Track 4 on The Royal Scottish Country Dance Society Twelve Modern Scottish Country Dances in Traditional Form Book 23

---